Flood and Protection
According to the records in the Keichou Era, about four hundred years ago, the Shinano River was known as a habitual flood area. Once heavy rain fell, it had caused terrible floods, broken the bank, swept all property away, and killed people and animals.
The "Yokota flood" in 1896 and the "Sogawa flood" are well known for the scale of the damage. Later, the Ohkouzu Diversion Channel was constructed and the banks were well maintained, which heightened the safety and decreased flood damage. However, still water level sometimes gets close to the planned High Water Level (the level which banks can maintain safe flows) and houses are damaged. So situation remains severe.
Major floods(Ojiya)
Date
Discharge
(m3/sec)
Cause
1961
3,990
Seasonal rainy front
1981
9,640
Typhoon
1982
9,290
Typhoon
1983
7,810
Typhoon
1985
7,200
Typhoon
1995
4,700
Seasonal rainy front
1998
5,970
Typhoon


The Shinano River could be in danger of a flood during these three seasons.
1.Snow melting season (from March to May)
2.Rainy season (from June to July)
3.Typhoon season (from September to October)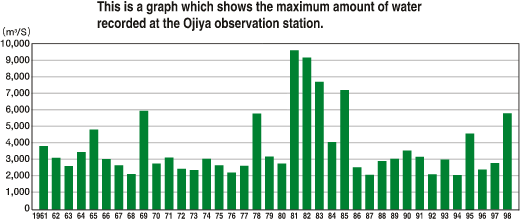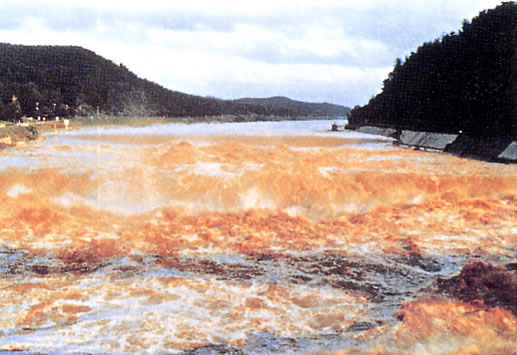 The mouth of the Ohkouzu Diversion Channel in 1981

UP