Weather
The upper area of the basin of Shinano, located in the middle of the Japanese mainland, is surrounded by mountains that are more than 2,000 meters high, and has remarkable inland weather. As the result, the precipitation is low in this area.
On the other hand, the lower Shinano at Niigata side, whose weather is peculiar to areas along the sea of Japan, is famous as one of the heaviest snowfall areas in Japan. The annual precipitation is 2,310mm in Nagaoka city, while only 938mm in Nagano city.
Annual rainfall
Observatory
Precipitation(mm)
Observatory
Precipitation(mm)
Sapporo
1,130
Nagano
938
Sendai
1,205
Osaka
1,318
Tokyo
1,405
Fukuoka
1,604
Nagaoka
2,310
Naha
2,037
According to the average
Precipitation
The weather in the middle of the Shinano River basin is typical on the coastal area of the Japan Sea. Nagaoka City is one of the foremost heavy snow areas of Japan having a great deal of precipitation during winter.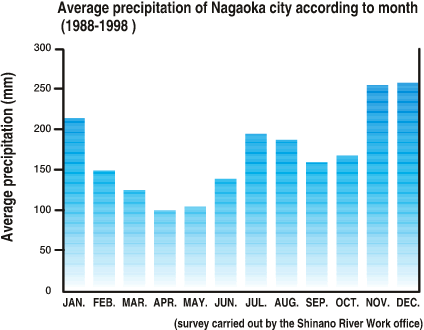 Snow fall
The middle of the Shinano River basin is known as a heavy snow area. Especially in Uono River basin, more than 2 meters of snow lies. The flowing water by snow melting is used for the generation of electricity, irrigation and so on. It brings all kinds of benefits to the basin.