Topography
Looking from the view of topography, the upper area is formed with, what is called the Japanese roof, steep Northern Japan Alps mountains and flat ground such as the Nagano basin. The lower area is formed with the Echigo plain, created by lots of soil and sand delivered by the water of the Shinano River. The surrounding inhabitants of the Shinano River hold its calming influence especially on the border of the prefectures where you can find the river terraces.

The length and the area
The Shinano River is 367km in length, and is as long as the distance between Niigata and Tokyo. It is the longest river in Japan. The area of the Shinano basin is 11,900km2, which is as wide as the area of Niigata prefecture.
Five longest rivers in Japan
Ranking
Name of the river
Length(km)
1
The Shinano
367
2
The Tone
322
3
The Ishikari
268
4
The Teshio
256
5
The Kitakami
249
Five widest areas of the river basin
Ranking
Name of the river
Area(km2)
1
The Tone
16,840
2
The Ishikari
14,330
3
The Shinano
11,900
4
The Kitakami
10,150
5
The Kiso
9,100

The number of river branches of the Shinano River is second in Japan. Each river branch gives all kinds of benefits to people living in the river basin.
Top 5 ranking number of river branches in Japan
Ranking
Name of the river
Number of river branches
1
The Yodo
962
2
The Shinano
880
3
The Tone
805
4
The Fuji
555
5
The Tsukihiro
475

Inclines
Since 70% of Japan is mountainous, water flows nonstop from the source of a river, in the mountains to the sea. The incline of the rivers are steep, so water flows fast.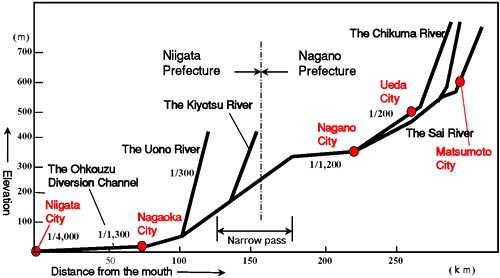 Extension and inclination of the Shinano River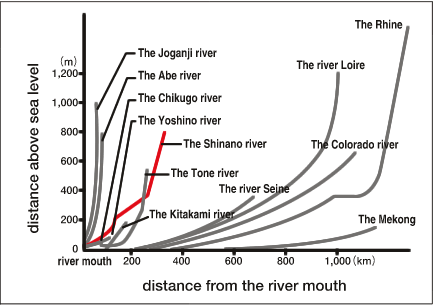 Inclines of rivers

UP