The New Main Weir
The construction of the main weir was completed in 1922. The main weir had a safety problem, because it has aged noticeably. In the interests of safety, therefore, work began on construction of a completely new main weir in 1992 and finished in 2000.
The new main weir is designed so as not to disrupt the scenery and the old main weir. No need of a large operation room on the top of weir pillars made the design simpler. For the scenery and durability, natural stones are used for exterior. Four fishway observatories are open to the public to enable visitors to watch fish swimming through the fishways.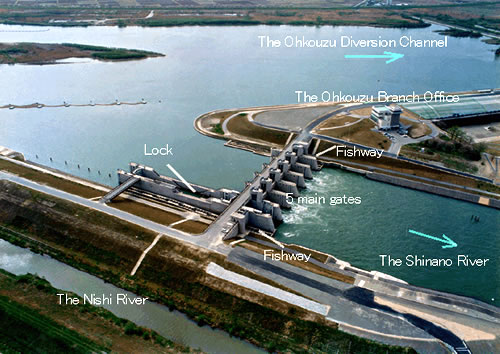 The New Main Weir and the branch office

Technology used for the New Main Weir
In harmony with surroundings
- Self-propelled cylinder for main gates
- Miter gates of lock due to reducing the size of weir
- Natural stone used for exterior
Fishway observatories
Improvements of quality
- High-strength concrete panels for resisting abrasion
- Low heat concrete to keep thermal cracking to a minimum
Cost reduction
- Natural stone panels
- Trench cutting remixing deep wall method (TRD method)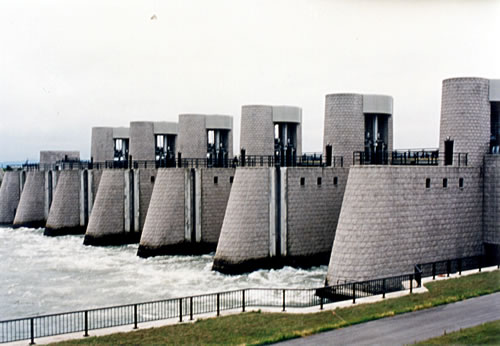 The New Main Weir

The Movable Weir
The movable weir was completed in 1931 and has worked for about 70 years. Following the completion the new main weir, the movable weir is now the oldest structure and is needed to be rebuilt in the near future.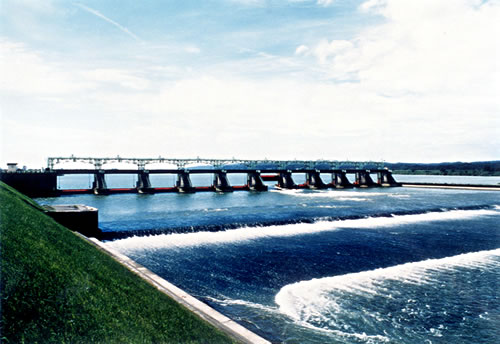 The Movable Weir

UP